When you place an order to trade, a bunch of things need to happen. Exactly what happens depends entirely on what you are actually ordering. At a high-level, somebody else owns what you intend to buy.
Trading Crypto
Let's say you want to exchange some of your hard earned cash, for a slice of Somecoin. Somebody else needs to be willing to sell it to you. Lucky for you, there are many people. They are waiting in line to sell it to you, at different prices. Let's say the price costs $5, but you're only willing to pay $4. You put your name down on a list. The price of this coin goes up and down in value. When the value dips to $4, your order will be executed.
This is how things work in a centralized exchange. It works a bit differently in a decentralized exchange, but the premise is the same. Any trade involves two parties, the buyer and the seller. Then in the middle, is the intermediary. They take a slice of the trade, in exchange for providing the service. How much is the slice?
Fees
What about Coinbase? The renowned U.S. company had over 6.1 million monthly active users in the first quarter of 2021; at present, it handles more than 56 million clients worldwide and more than 1,700 institutions and is considered one of the most accessible platforms to buy and sell bitcoin.
Charges vary from $0.99 for transactions below $10 to $2.99 for transactions under $200 or an equivalent in any other currency. In addition, Coinbase charges variable spreads on purchases and trades. The broker states that they typically charge about 0.50% to purchase and sell cryptocurrency below $10,000 in value.
For crypto conversions, Coinbase charges up to 2% in spread margins;
Crypto transfers are free between Coinbase accounts;
External transfers attract a network fee;
PayPal fees are 2.5%.
What do these fees amount to?
For the first quarter of 2021:
Trading Volume of $335 billion
Total Revenue of approximately $1.8 billion
Net Income of approximately $730 million to $800 million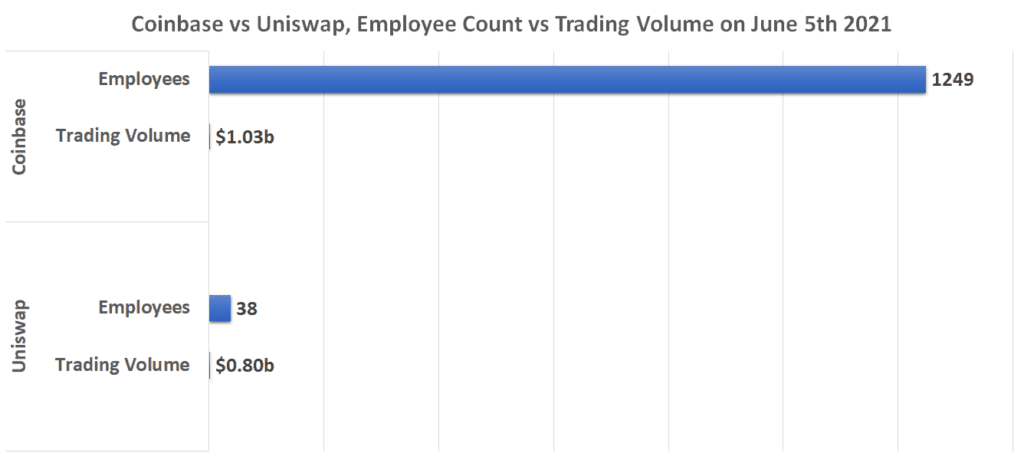 Uniswap amassed $293 billion in all-time trading volume across 72k liquidity providers in a few short years. Compared to Coinbase, that's 33x fewer employees at 77% of trading volume.
With total revenue of 1.8 billion and net income of 800 million, that means it cost 1 billion to operate their business in Q1 of 2021. If you could do this with 33x fewer employees, the value generated per headcount, is stark
What about comparing Coinbase to Uniswap? To compare the two companies, in a recent valuation model, digital asset research firm Messari estimates that Coinbase will post revenue of just over $3 billion by the close of 2021. Using a blended trading fee model (Coinbase's fees range on trading size and revenue), approximately $2.13 billion will be from trading with the rest being derived from Coinbase's other income streams such as custody, staking and crypto-fiat ramps.
Messari's model, however, might run on the conservative side and does not take into account the velocity of the bull market. Analysis done by The Block's research director, Larry Cermak, puts Coinbase generating $2.44 billion per quarter in revenue, or roughly $6 billion to $8 billion for the year.
Uniswap, on the other hand, using publicly available data will post approximately $1.13 billion in revenue on trading revenue from its estimated $376 billion in trading volume before gas fees, which tend to vary wildly and are more often borne by the trader and not the exchange.
Uniswap doesn't make anything from fiat to crypto conversions, which is a large part of Coinbase's revenue. WeInvest will take this revenue and funnel it back into the community.
https://blockworks.co/are-nimble-dexs-a-threat-to-coinbase/
https://www.reuters.com/technology/coinbase-listing-filing-shows-surge-revenue-amid-bitcoin-boom-2021-02-25/
https://hackernoon.com/uniswap-overtakes-coinbase-how-dexs-are-back-and-why-uniswap-is-the-flag-bearer-of-defi-cg4e3w8s